2017-02-01 Iowa - Step Therapy
Step Therapy Legislation Introduced in Iowa is Moving Forward to Full House Committee for Review
Posted: February 1, 2017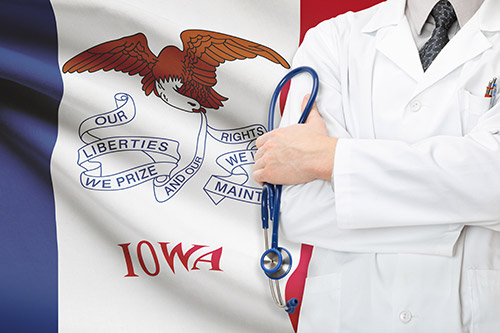 A step therapy bill in Iowa received unanimous support from a House subcommittee will now be heard by the full House committee in the coming weeks. HSB 26, introduced on January 23, 2017 by Representative Joel Fry (R, 27th), seeks to place limits on step therapy by establishing a clear process by which physicians can override the step therapy protocol if medically necessary and by requiring insurers to use clinical guidelines developed and endorsed by a multidisciplinary panel of experts when developing their step therapy requirements. Significantly, the bill does not restrict the number of steps insurers can require, nor does attempt to ban the use of step therapy protocols in any way.
This bill is an important step towards protecting the people of Iowa from delayed access to effective and safe treatment as well as an increased risk of adverse outcomes, both of which can result from step therapy. Should HSB 26 pass, Iowa will join multiple states across the nation that have enacted similar legislation, including Illinois, Indiana, Missouri, New York, Mississippi, California, Kentucky, Arkansas, Connecticut, Maryland, and West Virginia.
CSRO applauds the efforts of Representative Fry and the other subcommittee members who recognized the need for such legislation in their state. We will continue to support the Iowa bill as it passes to the full committee for review and will provide updates on its status as it moves closer to becoming law, so please continue to check our websites for news on this bill and those currently pending in other states.