2017-04-24 Florida Step Therapy
State Advocacy Spotlight: Step Therapy Legislation Continues to Progress in Florida
Posted: April 24, 2017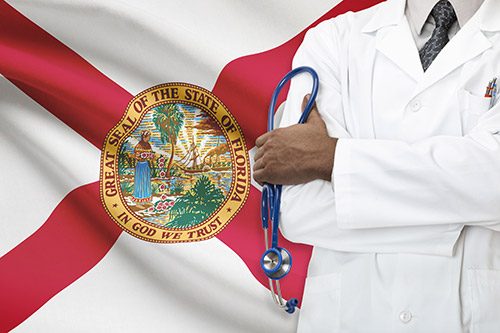 Like other states across the country, efforts to address step therapy in Florida are underway and making great progress as key legislation continues to move forward. HB 877, introduced by Representative Shawn Harrison (R-63) on February 17, passed unanimously out of the House Health Innovation Subcommittee on March 27 and is currently awaiting hearing by the House Health and Human Services Committee. SB 530, introduced by Senator Greg Steube (R-23) on January 26, unanimously passed the House last week and will now head to the Senate for its consideration.
Both bills seek to regulate step therapy by establishing an override framework under which patients and their doctors can request a step therapy protocol exception. More specifically, the bills require insurers or pharmacy benefit managers (PBMs) to establish and publish on their website a procedure for requesting a protocol exception and to respond to an exception request within 24 hours for an urgent care situation or 72 hours for a non-urgent situation. They further specify that insurers or PBMs must grant a protocol exception request if (1) the required drug is contraindicated or likely to cause harm, (2) the drug is expected to be ineffective, or (3) the patient received the drug or one in the same pharmacologic class previously and it was ineffective.
These bills are a critical step towards protecting patients in Florida. As Dr. Robert Levin, President of the Florida Society of Rheumatology recently wrote:
Under the step therapy requirement, physicians are given only two options for medications to prescribe at first. The patient must try both and fail to get the desired outcomes before they can receive what would be the physician's actual choice for that person.

The PBM's "preferred" drug may not be the best one from a safety and effectiveness standpoint, but current law makes it extremely difficult for physicians to bypass the preferred drugs. This can delay important therapy – some of my patients have had appropriate therapy delayed for more than a year waiting for appeals to PBMs. These delays harm patients and frustrate their doctors.

The Legislature has an opportunity right now to help patients gain access to the best medicine for treatment of their medical conditions. . . . [HB 877/SB 530], which would require insurers and PBMs to make prompt decisions on bypass requests, would go a long way toward giving doctors the power to prescribe the best therapy for each individual patient.
The CSRO applauds the efforts of Senator Steube and Representative Harrison who both recognized the need for step therapy reform in Florida. We will continue to support HB 877 and SB 530 throughout the legislative process. Please continue to check the CSRO websites for updates on the status of this bill and other step therapy reform throughout the country.